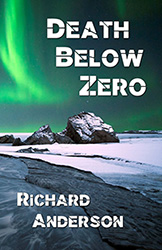 Death Below Zero by Richard Anderson
Nick Rezkel lost his PI license in a case that went sideways. Turned out catching the killer wasn't enough. Now he's on the Alaska Pipeline, working seven tens out in the minus 70 wind chill. Yet, there are compensations. Nick finds a new girlfriend with a quick tongue and a killer body. Life feels sweet despite his boss' threats to fire him. Then, everything gets serious. He finds a dead man, a heap of cocaine dissolving in his pooled blood. State troopers are convinced Nick stabbed the guy. Now, it's up to him to escape and clear his name.
Buy it at Amazon (Kindle - trade paperback - hardcover)
Floats the Dark Shadow by Yves Fey
2013 IPPY Awards: silver medal
2013 Next Generation Indie Award finalist in Mystery and Historical Fiction category
2012 ForeWord Magazine Book of the Year Finalist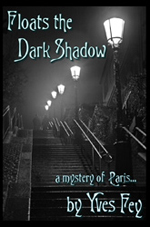 Young American painter Theodora Faraday struggles to become an artist in Belle Époque Paris. She's tasted the champagne of success, illustrating poems for the Revenants, a group of poets led by her adored cousin, Averill. When children she knows vanish mysteriously, Theo confronts Inspecteur Michel Devaux who suspects the Revenants are involved. Theo refuses to believe the killer could be a friend—could be the man she loves. Classic detection and occult revelation lead Michel and Theo through the dark underbelly of Paris, from catacombs to asylums, to the obscene ritual of a Black Mass. Following the maze of clues they discover the murderer believes he is the reincarnation of the most evil serial killer in the history of France—Gilles de Rais. Once Joan of Arc's lieutenant, after her death he plunged into an orgy of evil. The Church burned him at the stake for heresy, sorcery, and the depraved murder of hundreds of peasant children. Whether deranged mind or demonic passion incite him, the killer must be found before he strikes again.
Buy it at Amazon (Kindle - trade paperback - hardcover)
The Sun and Stars by Elizabeth Adair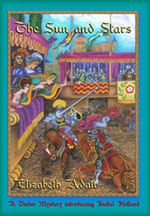 "For sheer intrigue, you'd be hard-pressed to find a period more steeped in it than the Tudor era, so dip into Elizabeth Adair's The Sun and Stars for a castle spy delight."
—Teresa L. Jacobson, Library Journal
Isabel Holland, illegitimate daughter of King Henry VIII, walks a privileged but precarious road through the intrigues of the Tudor court. When her cousin Sir Hugh Lovell is accused of stealing the prized crown known as the Sun and Stars and murdering its guards, Isabel pits her family loyalty against the political plotting of formidable opponents Cardinal Wolsey, Thomas Cromwell and the ruthless Lord Adam Colford. A young woman without official status, she discovers more murders and their connection to a conspiracy far more vast than a simple theft. Isabel realizes she is the only one who can save her cousin from execution and expose a plot to betray the King and the future of England.
"Gripping Tudor mystery!"
—Judith Stanton, author of A Stallion to Die For and His Stolen Bride
"Elizabeth Adair's first novel, The Sun and Stars, is set in the court of Henry VIII, amid all the splendor and suspicion, the intellect and the intrigue, the pomp and passion that Tudor England brings to mind."
—The Historical Novel Society
"The Sun and Stars is an elegant, witty, and engaging Tudor mystery. The plot is well-constructed and entertaining but Elizabeth Adair's debut mystery is lifted from four to five stars by the delightful dialogue of the well-developed characters, and by the splendid depiction of the world."
—Customer Review, Amazon.com
Buy it at Amazon (Kindle - trade paperback - hardcover) | Barnes & Noble
The Law of Revenge by Tess Collins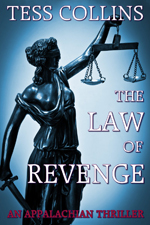 Alma Bashears escaped her Appalachian roots to forget the memories of a brutal rape. Now, a brilliant attorney, she returns to defend her brother against a trumped-up murder charge. Upon discovering the prosecutor is the boy responsible for her rape, this white-trash hollow girl will dispense a little country justice.
Buy it at Amazon | Barnes & Noble
"Tess Collins writes of Appalachia with an intensity that reminds me of Sharyn McCrumb's Ballad series. With her nimble plotting and modern sensibilities, she's another authentic voice for the region."
—Margaret Maron
"Tess Collins captures the atmosphere of Appalachia and the essence of its hill people with a tenderness, vividness, and accuracy that is positively brilliant."
—amazon.com
"A solid excursion into a melange of deception and greed... Filled with regional flavor and an unnerving sense of small-town claustrophobia."
—San Francisco Examiner & Chronicle
The Law of the Dead by Tess Collins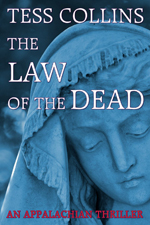 Appalachian country was shaped by misty valleys, hardship, mining strikes, and the legacy of the Cherokee People. Now the small Kentucky town of Contrary is being reshaped—by murder.
Reconciled to settling down in the community she fled years before, attorney Alma Bashears finds herself embroiled in random acts of violence that soon become chillingly connected: the tragic death of her pregnant cousin, the shooting of a factory owner, the disappearance of a teenage girl. As Alma delves into family secrets, a preacher's mysterious power, and a curious relationship with a handsome stranger, she realizes how much of Contrary she still doesn't know—including a killer who has made himself at home...
Buy it at Amazon | Barnes & Noble
"What I like most about Tess Collins's Appalachian Trilogy is the character of the hero, Alma Bashears, who is classy, smart, clever, resourceful, sexy, and full of surprises. And the other characters blow the hillbilly stereotype to smithereens. They are bizarre, quirky, sly, funny, and endlessly fascinating. When I lecture on mystery writing I use Tess Collins's books as examples on how it ought to be done."
—James N. Frey, author of How to Write a Damn Good Mystery
The Law of Betrayal by Tess Collins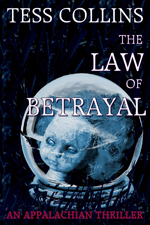 When she was ten years old, attorney Alma Bashears' father disappeared; and now, the only man who knows the true story has been brutally killed. To defend herself against an accusation of murder, Alma must face the ancient mystery of her own heritage, an ancestry stemming from a misunderstood race of people called the Melungeons. Their land holds the secrets of the ages—secrets Alma must uncover before an old enemy comes out of the shadows…
Buy it at Amazon | Barnes & Noble
"The Law of Betrayal brings together an intrepid sleuth, prosecutor Alma Bashears, a rich and unique setting in the mountain hollows of Kentucky, a cast of quirky characters that kept me off balance, and a twenty-year-old mystery that demands to be solved. All of which add up to a tale that kept me guessing until the very end."
—Margaret Coel
"A thoroughly enjoyable novel. A fascinating look at Appalachia and the impact the past can have on the present."
—Lauren Haney
© BearCat Press LLC.